How much is DOI?
To have an opportunity to appropriate Digital object identifier (DOI) to articles and issues of your scientific magazine, you have to conclude the contract with one of official registrars DOI or address third parties who already have the existing contract. We recommend to issue the contract with the largest registrar DOI — CrossRef to receive a publishing prefix.

All prices and the services CrossRef are specified on the official site of the organization.

First of all you will need to pay annual membership dues (CrossCheck Annual Fees).

It is necessary to understand that annual contributions are paid not by the separate magazine, but publishing house, a scientific and educational institution or the certain employee of an institution which has concluded the contract with CrossRef agency.

If your publishing annual income doesn't exceed 1 million dollars, then your annual membership dues will make or $275 or $330 ($275 + $55 for use of service of tracking of plagiarism of CrossCheck … — this service is optional, i.e. it can be not ordered).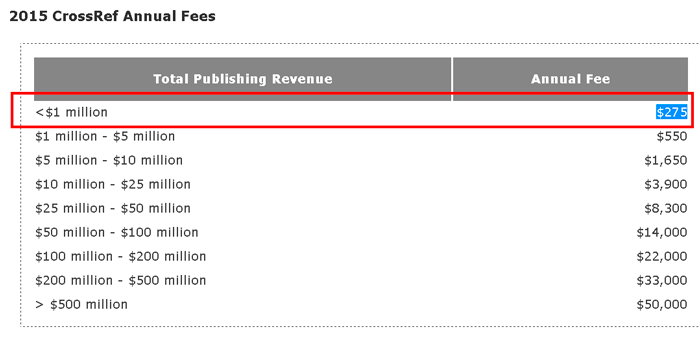 $330 ($275 + $55 for CrossCheck)

The cost of one identifier of digital object is paid one-time and makes for $1 DOI — 1.00, but if article is issued more than two years ago, then $0.15 for 1 DOI.


It is simple to count that, for example, the current collection with 30 articles (30+1) will cost you $31, and the collection, suppose, for 2012 — only $4.65.

I.e., if you decide to staticize your scientific information in 10 years (!) (for example, from 2002 to 2012) taking into account that in a year you published 2 releases on 30 articles in everyone, then the sum will be such: (2 x 10) + (60 x 10) x 0.15 = $93

For payment it is enough to you to open the currency account in one of banks and to issue a currency card! Data of the recipient to you will be sent by the staff of the organization for registration of DOI. It is possible to pay within 10 days about the moment of obtaining the receipt on your e-mail.

Detailed reports on your DOI (for example a rating of the most popular and so forth), and also receipts on payment, will regularly come to your e-mail.
- Annual membership dues: the account is sent for payment in January every year.
- A payment for the placed DOI (their quantity is considered): the account for payment is sent quarterly (January, April, July, October).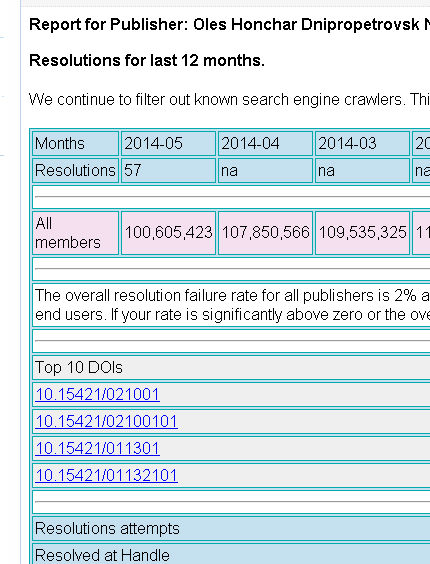 You look also:
Identifier of digital object of DOI
How to receive DOI? Contract with CrossRef