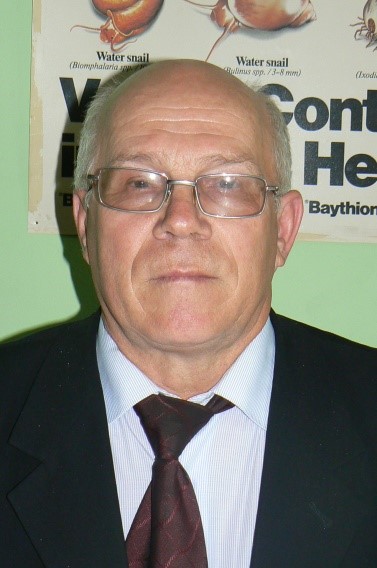 ARKHIPOV IVAN ALEXEYEVICH - Editor-in-chief

Doctor of Veterinary Sciences, Professor, Award winner of the Government of the Russian Federation (1996), Deputy Director for Science, VNIIP – FSC VIEV (Moscow, Russia)
e-mail: arkhipov@vniigis.ru
Scopus ID: 12783579100
ORCID ID: 0000-0001-5165-0706
ResearcherID: U-5040-2018

Date and place of birth: February 16, 1947 (village Tomylovo, Kusavatov district, Ulyanovsk region).
Background – veterinarian. In 1971, he graduated from Ulyanovsk Agricultural Institute.
Main research fields: veterinary parasitology, animal filariatoses, elaboration of drugs for treatment and prevention of animal helminthiasis.
Employment details: postgraduate student (1976), junior, senior, leading research associate, laboratory head (1991), Deputy Director for Science of All-Russian Scientific Research Institute of Fundamental and Applied Parasitology of Animals and Plants named after K.I. Skryabin (2002), Deputy Director for Science of VNIIP – FSC VIEV.
Extracurricular and scientific activities: Deputy Chairman of Coordination Council on Veterinary Parasitology of RF and CIS countries, Deputy Chairman of the Scientific and Dissertation Councils of the Institute, a member of Central Council of the All-Russia Society of Helminthologists RAS, deputy chief editor to Russian Journal of Parasitology.
Basic publications: More than 520 scientific works were published including six monographs. Essential publications: «Anthelmintics» (1998); «General and clinical veterinary formulations» (1998); «Dirofilariasis» (2004); «Veterinary drugs in Russia» (2004); «Anthelmintics: pharmacology and uses» (2009); «Nematodosis in dogs» (2012). Has 20 invention patents.
Arkhipov I.A. has a scientific school: Under his supervision 40 PhD and doctoral dissertations were prepared and successfully defended.
Arkhipov I.A was awarded a commemorative medal «850th Anniversary of Moscow» and various medals of All-Union Exhibition of Achievements of National Economy and All-Russian Exhibition Centre.