Graduate students of all-union scientific research institute of Parasitology of Scriabin have an opportunity to use the educational and methodical materials which are available in library of the Moscow state Academy of veterinary medicine and biotechnology - of name K.I MVA. Scriabina.

Moscow state Academy of veterinary medicine and biotechnology - MVA of name K. I. Skryabin — one of the leading libraries of agricultural higher education institutions of Russia, the active member of the Russian library association, International Association of users and developers of electronic libraries and new information technologies (EBNIT Association).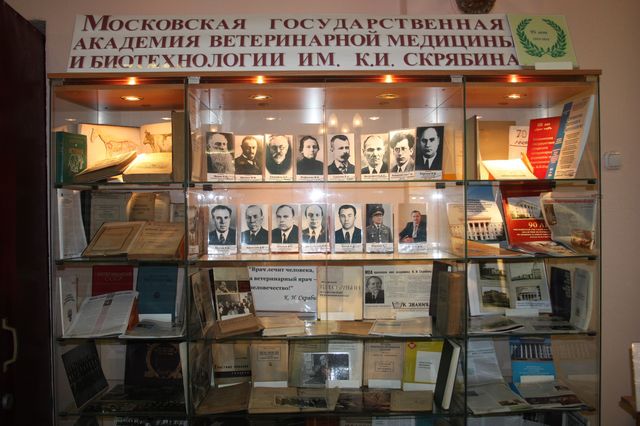 Material and technical resources of library.
The total area of library - 1 342 sq.m., from them:
- a book-depository - 784,1 sq.m.;
- for service of readers - 459,8 sq.m.
Personal computers - 32 units, from them:
- connected to the Internet - 27 units;
- the local computer network - 32 units;
- multiple copying equipment - 11 pieces.
Formation of a library stock is conducted according to the Tematikotipologichesky plan of completing. Changes and additions are made according to the federal educational standard and working training programs.

On 1/1/2014 the general fund of library - 619017 pieces, from them scientific literature - 172876 pieces, textbooks and studies, a grant - 206068 pieces, electronic editions - 1104 pieces, foreign editions - 46169 pieces, periodicals - 47380 pieces.
The website of Scientific library of the Moscow state Academy of veterinary medicine and biotechnology - of name K.I MVA. Scriabina: www.mgavm.ru
Address of library: 109472 г.Москва, Akademika Street Skryabina.23
Reference to the address of library in Yandex.Cards
Phone number: 8 (495)-377-93-53
Email:
biblio2@mgavm.ru
Reference to the page of Regulations of work of library